ORGANIC EXTRA
Virgin Coconut Oil
NIAU Organic® Extra Virgin Coconut Oil is obtained by cold pressing of the fresh coconut pulp. The excellence of this extra virgin coconut oil comes from the origin and selection of coconut used, but also from the manufacturing process by cold centrifugation. These two conditions allow NIAU Organic® to be on the local market the purest, most clear and lowest oxidation risk oil. 
COLD NATURAL CENTRIFUGATION
OUR MANUFACTURING PROCESS
The natural cold centrifugation used aims to separate the various components of heterogeneous mixtures (suspensions, emulsions). The mixture, rotated about an axis, is subjected to acceleration. The particles with the highest density go outwards because of their higher inertia and drive the lower density components to the bottom.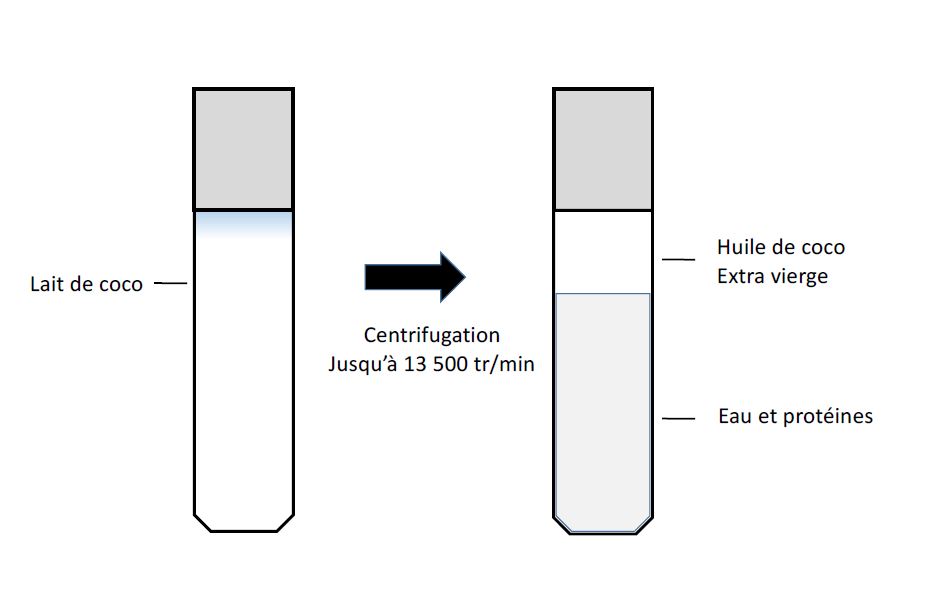 Consumers and professionals praise the purity and exceptional organoleptic qualities of the organic extra virgin coconut oil NIAU Organic® compared to oils obtained by simple pressing and decantation. 
Virgin coconut oil can be done in two ways. The first, the most conventional is a method of decantation which is of economic interest but presents risks of reproducibility therefore an oil of variable quality which can sometimes be cloudy and which remains fat in the mouth or on the skin and with a pronounced taste of nuts coconut. 
The other, more recent, centrifugation method is more complex and requires equipment and reduces yields compared to traditional methods. If there are many centrifugal machines, those used by NIAU Organic® are of high precision and require training of personnel, regular maintenance. 
EXCEPTIONAL QUALITIES
WELCOMED BY LABORATORIES OF ANALYSIS
"Organic extra virgin coconut oil from Niau / Tuamotu is very rich in lauric (48.8%) and mystic (17.9%) acids" 

"The extra virgin organic coconut oil originated from Niau / Tuamotu has an irreproachable oxidative state (undetectable peroxides, low acidity) and a significant resistance to oxidation close to 2 times higher than conventional olive oil alimentary consumption"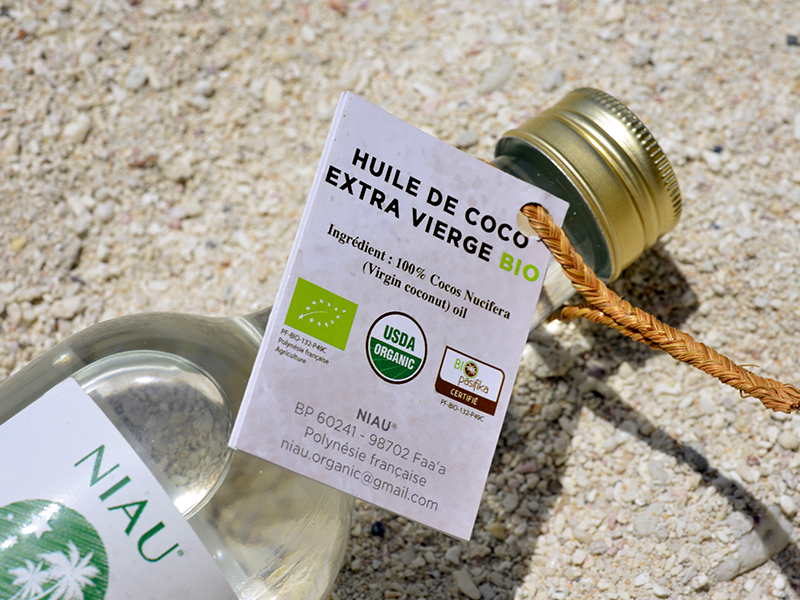 TRIPLE BIOLOGICAL LABELING
GUARANTEE OF QUALITY
Since June 2017, NIAU Organic® has been the only local coconut oil to benefit from a triple organic label: the official European organic agriculture label, the USDA Organic label and the Bio Pacifika regional Pacific label. Compliance with specifications, traceability and certification reaffirm quality and reassure consumers from the origin of the raw material to the production of the finished product.