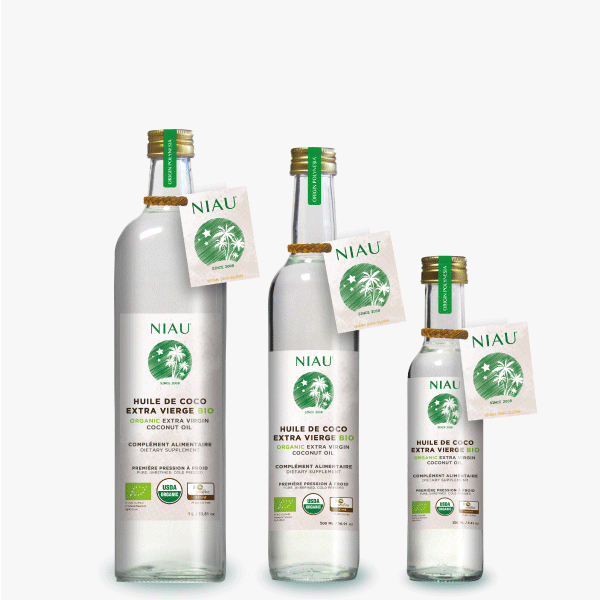 DIETARY SUPPLEMENT
8.45oz – 11,96oz -33.81oz GLASS BOTTLE

When coconut oil is liquid *, it is the ideal format for use as a dietary supplement, cure and kitchen. Containers adapted to individual and family needs. 100% recyclable packaging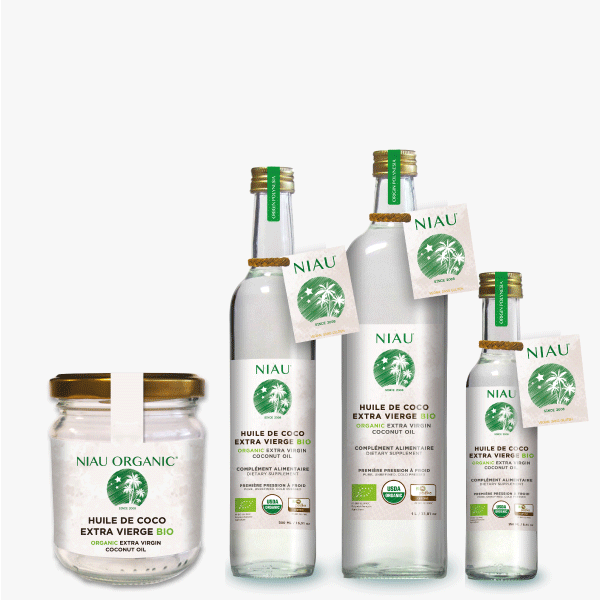 COOKING WITH COCONUT OIL
4.73oz GLASS JAR, 8.45oz - 11,96oz - 33.81oz GLASS BOTTLE
With its large opening, the jar is an ideal solution when the oil is refrigerated or naturally frozen *. Each packaging is adapted to the conditions of use, for individual or family needs 100% recyclable packaging 
*Natural coconut oil freezes below 65°F 
PROFESSIONALS
AN OFFER MADE FOR YOU
Discover a range adapted to your needs: large glass bottles for restaurant, plastic jerricans, tanks. Ideal for pharmaceutical laboratories, catering, SPAS. 
Complément alimentaire
Traditionally used as antifungal, antibacterial and natural anti-yeast, virgin coconut oil contains a rare combination of 3 fatty acids known for their health benefits: lauric, capric and caprylic acid. 

Coconut oil is very rich in vitamins, antioxidants, fatty acids and minerals which allows it to be consumed daily or occasionally as a cure. 
COOKING
Star of the organic groceries of multiple benefits are traditionally recognized with extra virgin coconut oil: 
Very easy and quick to digest 
Rarely stored as fat 
Antimicrobial and antifungal 
Small in size, it has a high cell permeability to bring energy quickly; 
Metabolized by the liver to be converted into energy (instead of being stored as fat). 
BEAUTY
Nourishing, soothing, restorative, whitening ... the many virtues of coconut oil are more and more followers and in fact the Star of beauty care: 
Coconut oil contains a lot of lauric acid, a saturated fatty acid with a strong affinity for skin and hair 
Moisturize and Strengthen her hair with coconut oil, nourished and shiny hair 
Coconut oil to nourish your skin 
Coconut oil for face care 
Coconut oil as makeup remover 
Coconut oil for dental care. 
"Very nice discovery. It's been more than 3 months since I started using the virgin coconut oil from Niau Organic. Basically this product was offered to me to test it by removing makeup (being accustomed by my profession to the use of various makeup removers) and indeed it is super-efficient and does not sting the eyes!
 

But the best surprise is that for 3 months I totally stopped using my night care products to make room for this oil and I am very satisfied! After 1 month and a half I started to clearly see the changes! My complexion is much brighter, my skin plumped and hydrated! A few weeks ago I made the mistake of not protecting my face from the sun so I used the oil morning and evening, which avoided me to peel excessively. Thank you for the quality of your oil » 

Orama NOBLE Professional makeup artist
"I had the opportunity to taste and test dozens of virgin coconut oil in Tahiti and abroad but here I was blown away ... yours, 100% local is distinct and clearly of a superior quality! I am a fan!!" 

Cédric WANE Xterra Triathlon Champion
"Great quality product and great team" 

Flore HANI Professional Combatant of MMA (Mixed Martial Arts) and English Boxing
"I use almost all the time! At sea, in the evening, for my hair, etc. ... I am delighted with the well-being it gives me"

PERLE RENVOYÉ Best Dancer from Heiva 2018 (traditional dance festival)
"It's something I have never seen. It is super light in the mouth, it smells good but it is not aggressive. A slight coconut taste at the end of the palate, it's nice to eat, it's light, it's fine. The color makes you want to dive in, ... it's an exceptional product" 

Maheata BANNER Producer and host of the cooking show Les Bons P'tits Plats by Maheata